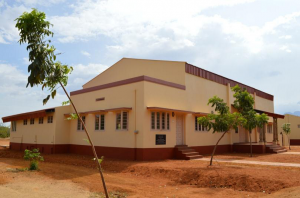 We were delighted when our local Member of Parliament, Mr Ramasubbu, officially opened the "Burden Centre" on our Founder's day on 4th August 2012. The centre provides excellent facilities for many projects operated by KWTC and will be a useful resource for our Outreach and Residential Programmes.
Our Outreach Office is located in the new centre, where the staff manage the children supported by both our Education and Medical Outreach Programmes. It will be the focus for all outreach functions, including a day care and therapy centre for children with disabilities, seminars, summer camps and educational resources for children on the Education Outreach Programme.  Residential children will use the centre in for evening classes, cookery classes and computer training.
The Burden Centre is a wonderful multi-purpose facility that will benefit every one of the children we support. We are very grateful to the grant making trusts whose generous donations made it a reality.