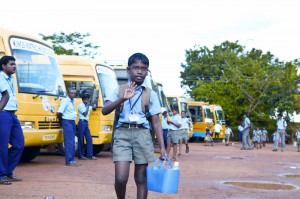 Kings School is an English medium school, (all classes are taught in English), and is wholly owned and run by the charity. The school was opened in 2005; its construction was funded by  corporate donors.
Kings School is a not for profit organisation; Kings School subsidises placements for children from very disadvantaged backgrounds who have the potential to excel but would otherwise be unable to attend such a school. Bursary placements are also funded through our Sponsor a Child programme and from general funds. Total capacity is for 1500 students, of which around 25% are funded under the bursary programme.
Kings School has developed an enviable reputation for academic and sporting excellence, but it is also noted for its inclusive and holistic approach; every child is given the same opportunities to thrive, regardless of class, religion or background.
The school is based on the same campus as our residential homes and outreach offices in Tamil Nadu State.
Please visit the Kings School's website: www.kingsschools.in